Large File Transfer

Blueline Reprographics offers a wide variety of services for the Architectural, Engineering and Construction (AEC) communities.

Welcome to the new era of file transfer. Blueline hosts a web based solution for transfering your files from your computer to us for processing or we can tranfer files from our location to your computer. Because email is inherently insecure and limited on data transfer capacity, our services are password protected and are nearly limitless in the amount of data that is tranferable. The ability to upload and download files offers you another digital solution for allowing Blueline to complete your project.  Ask us about the details on how this can add value to you or your business.

Blueline Reprographics has always been the local choice for AutoCAD plotting, digital conversion, scanning to any of the common and not so common file types. Blueline provides "local" services to connect you both nationally and internationally with our digital shipping service or data transfer capaiblities. Blueline Reprographics is your global service provider for all of your reprographic needs.

Blueline can also scan large format originals and save either to media or FTP for download. Cost effective color scanning of as-builts is available upon completion of your job. Our skilled technicians can scan, index and archive these drawings to CD or DVD.

Using the latest technology and CAD software, Blueline can take your digital files and process these images for high quality output on our equipment. Blueline Reprographics provides complete plan room services including bid broadcasting to assist your firm in the document management of your project including shipping capabilities in both hard copy or digital. .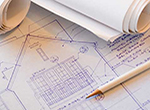 Blueline Reprographics state-of-the-art digital reprographic systems allow us to print a 1st generation "plot" straight from the digital original. This can be done in color or black/white. We have the capability to plot your output on a variety of mediums including vellum, film (mylar) or bond paper up to 60" wide.

At Blueline Reprographics we can receive your AutoCAD .dwg, .dwf, .dxf or .plt files and apply the latest versions of the AutoCAD software to satisfy your output needs. Don't forget to use the full power of AutoCAD by providing us with your .ctb files that allow us to utilize your pin weights, line weights, and colors to optimize the presentation and accuracy of your drawings. We can receive your files from CD's, via email or uploaded to our ftp site so as to allow us to evaluate and determine the best solution for your CAD plotting needs.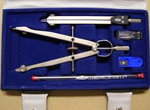 Blueline Reprographics offers our clients the service of converting your hard copy or scanned blueprints, engineering/architectural drawings and maps into CAD perfect files. Conversion allows organizations to convert their legacy hard copy drawings, maps, or images into digital resources. This is a reasonable cost alternative to having your CAD technician spending time to recreate your drawing into a CAD format. In fact, our service is about a quarter of the cost and guaranteed for one year. Delivery of our finished product is usually within 48 hours with a rush service available.

There are many advantages to having your drawings in digital format:

Convenience
Easy editing for modifications and alterations
Easy Storage and Retrieval
Cost Savings
No more costly scanning or manual changes
Reduced storage requirements
Excellent Presentation
Remodeling becomes easy in digital space
Presentation is superb with similar elements organized into layers with color coding
Affordability and Fast Value for money with very affordable rates
Various formats available like AutoCad, Microstation, dxf, etc
Give our technicians a call to see how we can convert your paper architectural drawings, maps, as-builts, plumbing, HVAC, electrical, mechanical, and various types of engineering drawings into perfect editable CAD files.
Blueline Reprographics is your one stop location for document scanning and archiving. If you need to create a digital image of your hard-copy original for storage, printing or emailing Blueline has the digital equipment to assist with your needs.

Our in-house technology allows us to scan everything from full color architectural and enginnering drawings to simple black & white letter documents into easy to handle, store and distribute files.

Scan to file (.pdf, .tiff, .jpg and more)
Black & white or color scans up to 48" wide and any reasonable length
Mounted drawings or documents up to 1/2" thick
Architectural and engineering scanning - drawings and specifications
Legal Applications - various litigation and discovery documents and coutroom exhibits
Fine art scanning
Blueline can create your images in both MAC and PC formats, scan your files to CD or DVD or upload to our ftp site for your file transfer.
We can group multi-page documents into a single pdf file, index your files as per your direction for easy location or output your images on a variety of mediums and substrates.
Imagine being able to replace entire file cabinets, storage units, and closets full of documents with digital data stored on CD's. When "image is everything", be sure to call Blueline Reprographics to provide you with a scanning and archiving solution. Blueline continues to think green with our services with little or no waste is created in this process while taking advantage of our in-house digital technology.